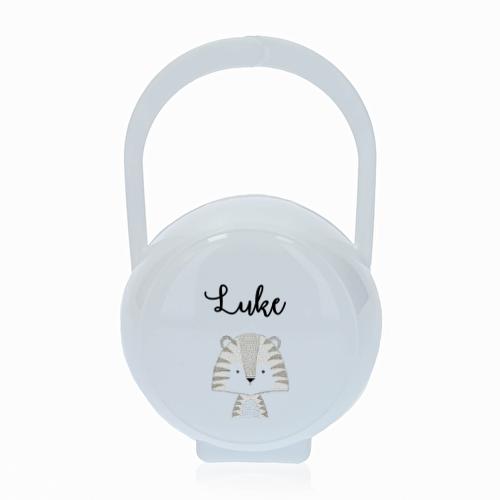 Personalised dummy holder
id: qpoi9py4qmo8_14950
Sizes: 6,5 cm (width) x 11 cm (length) x 5 cm (depth)
Without minimum quantity
Personalised with photo, name or date.
With handle to hang in cart.
Practical snap closure.
reviews

Instructions for use
Before and after each use, wash carefully with neutral soap and rinse with plenty of water.
Do not use abrasive detergents, do not boil and do not use microwaves.
When not in use, store in a clean and dry place.
Do not expose to direct light or heat sources.
Custom dummy holder
We love pampering the little ones and we look for the best for their care. Now you can create your own personalised dummy holder with photos, with nice designs, or putting the name of the baby or his date of birth, among many other options. Because with us you can take care of every detail and do it just the way you want.
This dummy holder is made of resistant plastic, includes a handle to hang on the baby's trolley and has a snap lock to prevent accidental opening. The materials used for the manufacture of this product are free of BPA and phthalates, because we care about their care. Moreover, both the product and the personalisation are made in Spain.
Before personalising, you must first choose the color of this one among several shades: white, pink or blue. The front is designed in full color with the customization you want and is made with transparent adhesive vinyl. The result is incredible and you will obtain the most exclusive model.
It is a typical gift for pregnant women, new mothers or as a detail to the baby in their first weeks or months of life. But we want you to make it much more special and for that, we recommend you to create a pack with other products from our catalog: personalised dummy and a dummy holder. You can do the same customization for the three items and they will match.
Personalisation method
We print your design, photo or text directly on the product, using non-toxic inks. When personalised by direct printing, and not with vinyl or adhesives, the duration of the personalised zone will be much longer.