Personalised teacher gifts
In many nursery schools and schools, it is a tradition that parents make a gift, jointly, for the class teacher, when the school year is about to end (in June, approximately). Here are some ideas for a really touching gift for the teacher. The most popular gift is a class ribbon with the name of all the children in the class, or a personalised blanket or towel with the children's drawings on it? Use your imagination! There are several original personalised gifts, some of them cheap if you don't have a big budget to spend. And the concept personalised means that you can create the product however you want. If you want photos of the children, separately, or with the teacher, you can do it. Or if you only want the names of each child, or the teacher, or drawings made by the children, personal dedications... all this can be done.
At Wanapix, we specialise in gifts for teachers. And that's because we know that original gifts for teachers are a very particular type of gift, which is especially sought after in May and June, when classes are ending in schools and colleges. At least in Spain, where we are located, in many classes it is decided to give a gift to the teachers, especially in primary school. And indeed, our personalised gifts are perfect as original gifts for nursery school teachers and primary or secondary school teachers.
We have personalised teacher gifts that are in high demand:
Mugs for teachers, with their photo, a class photo, or a fun design related to their profession.
Aprons for teachers, personalised with a design with the name of the school or the names of all the students, for example.
Signature boxes or personalised ornaments, where all the children will be able to write a dedication or a small drawing as a souvenir.
Blankets for teachers, with photos or original designs.
We believe that these ideas are undoubtedly very original gifts for teachers at the end of the school year, or even at other times (thank you, birthdays, Christmas, or any other important event).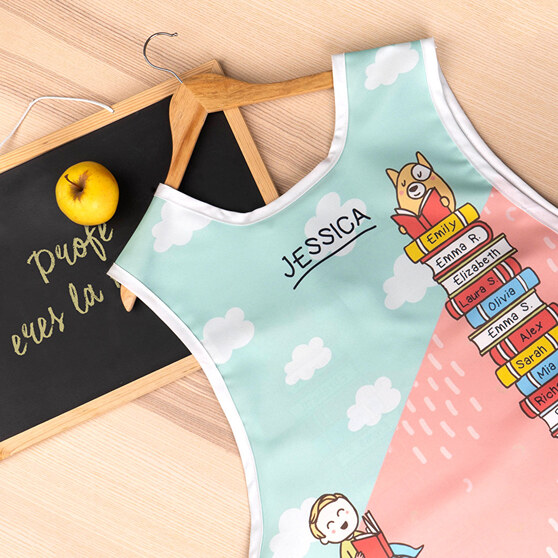 Gifts for teachers according to school year
When deciding what gift you want to give to the teacher (something that will surely be decided in the famous school Whatsapp groups, it is very important that you take into account what year your children are in, that is, the ages of the children that the teacher has taught during the year. It is not the same to make a gift for a nursery or infant school teacher, who is in charge of 1 or 2 year old children, as it is to give a gift to an educator in the sixth year of primary or secondary school, with older or almost adolescent pupils. The tone of the gift will change a lot, and it can be much more childish and tender for infant teachers; and something more "serious" or with less childish tone for secondary or last years of primary school teachers.
On this page you will see that we have also created a series of categories to propose gifts for teachers according to the year, divided into: nursery, infant, primary and secondary. Enter the corresponding course to get some gift ideas much more oriented to your case.
Custom teacher gift ideas
Let's see what you think of this idea: give a personalised blanket with the hands of all the children on the blanket, in different colours. To do this, each mother or father can have their child leave their hand full of paint on a sheet of paper, digitise it in JPG (or take a photo with their mobile phone, well focused and with good lighting) and in this way all the hands can be added to the design of the blanket. It only takes a mother or father with a minimum of knowledge to prepare a collage with all the hands of each child.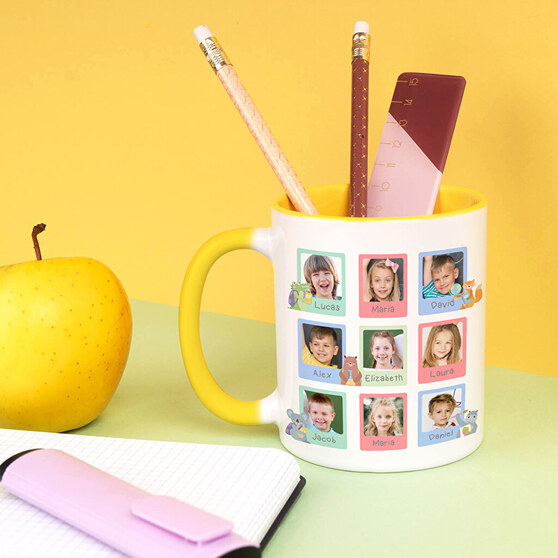 Although it is not a gift on its own, we also recommend adding a thank you card with a personalised dedication. You can add a text, the name of the teacher, the school year that is ending, the name of the class? whatever you want. In our online shop you can also find personalised cards to give with the "main" gift.
We think they are totally wonderful and wonderful gifts! And they are all suitable for male or female teachers, totally unisex.
Almost all teachers end up in tears when they receive a personalised gift!
Male or female teacher? it doesn't matter what you call them, here you can find the best gifts for them.