Custom hoodies with your photo or design
Sweatshirts are a must have in any wardrobe and never go out of style. If you are tired of the typical sweatshirts sold in stores, we recommend that you make personalised hooded sweatshirts with photo. They have the particularity that you can design them as you have always wanted on both sides with the design, photograph or text you want.
They are unisex, they like them as much as they do and we have a large number of colours to choose from. They are made of cotton, B&C brand, and are available in sizes from XS to XXL. In addition you can easily put them in the washing machine and you do not have to make a minimum order, buy the ones you want!
Size guide
If you don't know yet what size sweatshirt you have, you can check our size chart to find the one that best suits you: XXL, XL, L, M, S and XS.
| | XXL | XL | L | M | S | XS |
| --- | --- | --- | --- | --- | --- | --- |
| Chest (cm.) | 66 | 60 | 58 | 55 | 53 | 47 |
| Height (cm.) | 73 | 70 | 68 | 65 | 64 | 63 |
| Sleeves (cm.) | 70 | 66 | 65 | 65 | 64 | 63 |
Important: measurements are approximate, and may vary slightly depending on the color of sweatshirt chosen.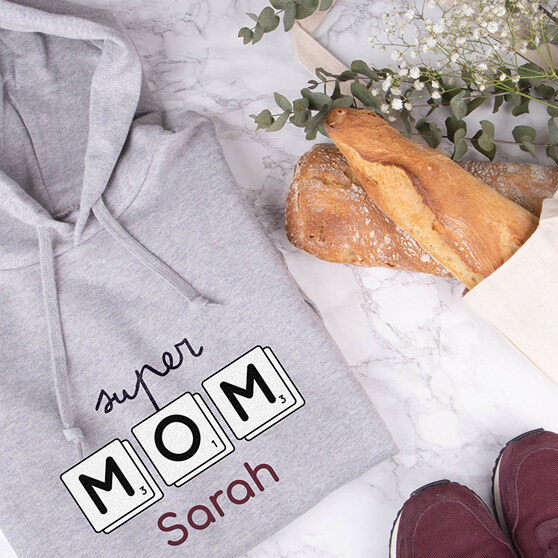 Print type
We use the highest quality in DTG digital printing. This type of printing perfectly integrates the design, text or photograph you choose in the sweatshirt without any brand. In this way, you can print designs with transparent background and will be fully integrated into it.
Other of the great advantages of this print is that it resists washing and continued use, unlike other brands.
Washing instructions
When washing your sweatshirt, take these aspects into account so that it does not suffer any damage and you can continue enjoying it:
Wash inside out.
Suitable for washing machine. Maximum 40 degrees.
Do not use bleach.
Suitable for iron. Maximum 150 degrees. Do not iron directly on the printed area.
Do not dry clean.
Do not tumble dry.
Technical characteristics
Trademark: B&C.
Textile: 80% Cotton - 20% Polyester.
Weight: 280 gr/m².
Fists and bottom with elastane.
Kangaroo-type front pocket.
Shoulders and armholes with flatlock stitching.
Modern fit.
How to personalise a sweatshirt
If you have never bought one made by and for yourself, it is normal that you have many doubts before starting: How to make a sweatshirt for women? And for men? Don't worry, because our editor is very easy to use and intuitive.
Before starting to design it, first think very well how exactly you want it, then you will only have to dive in the editor. There you will find different predesigned templates that you can adapt to your taste or if you are very creative, you can make the most exclusive model by adding your favorite photographs or your own design.
It's a good gift on any occasion: Father's Day, Mother's Day, birthdays, Christmas... These personalised sweatshirts for men and women are very warm and wearable, but, above all, they are different from the rest thanks to customisation. But the original doesn't always involve more expense, if you're looking for cheap personalised sweatshirts these are the ones you need.
If you don't know how to decorate sweatshirts, we are going to inspire you by giving you some ideas to transform it into the most original one. Aim!:
Sport sweatshirts: often used in non-professional sports. They are very warm and comfortable to wear with the sweatpants. Design it with the shield of your favorite team, a motivating phrase or with the number of a player you admire.
Party sweatshirts: many parties decide to have the same design for everyone. Now you can personalise it with the name and logo, and behind with your name.
Geek sweatshirts: bring your favorite phrases of fictional characters from games, books, series or movies and make your model more geek and original.
Sweatshirts with phrases: they are very fashionable, because they have a minimalist style and in them you can put an inspiring phrase, a word... Choose a nice typography to make the result cooler.
Urban sweatshirts: urban style is always a trend. Choose the most neutral models: grey, black or white, and personalise it with your favourite MC logo, letters or names with typography such as those typical of graffiti, etc.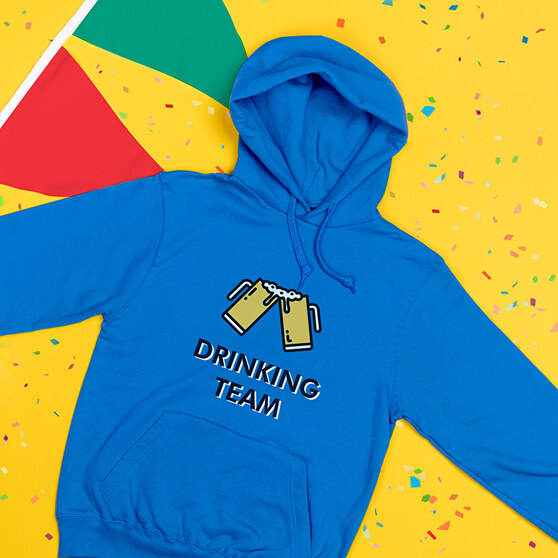 How to combine a sweatshirt
Sweatshirts are still used for sport, but they are increasingly used for everyday life. By adding this garment to your look, you get an informal or casual look. It is also very easy to combine with other garments and you can wear it in any season of the year. It is always good to have one at hand.
The jeans combine very well with this garment, but do not cut, you can try others and give a casual and youthful look to your look. Skirts and leggins also look great, especially if you use bright colors or a resultant design. Another way to wear them is with another warm garment on top, usually with leather or jackets. In this case, the garment is usually worn with the top open so that you can wear your outfit.
Quality assurance
The material used to make this product complies with the OEKO-TEX® certificate, which guarantees that the material meets the required control criterias, as well as the accessories such as rivets, buttons, zips, interlinings, etc. Textile materials with the OEKO-TEX® quality seal have skin-friendly properties.
Fair Wear Foundation
Textile products labeled with the Fair Wear Foundation logo ensure that these products are manufactured in companies with fair conditions for workers.