How to make original cushions
The cushions are one of the basic elements of decoration in any home, but they shouldn't be neglected. A personalised cushion can make a difference in the ambience of your living room or bedroom. From giving a bold touch to a classic tryptich to lend elegance and modernity to your furniture.
Choose the shape, type of fabric and size and design the cushion that fits perfectly to your style, tastes and needs. Because we know that there are things you just can't find anywhere. Now you can do everything you want, because you can personnalise all our cushions with photo or with the design you want.
Now it's easier than ever to make personalised cushions with photos, because our online editor helps you do it step by step.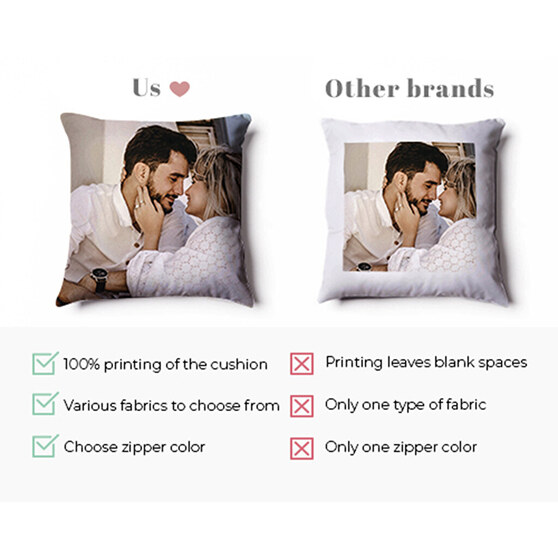 Good, nice, cheap... and totally personalised
Our cushions have the OEKO-TEX® seal, which guarantees the quality of all textile components, including the finishes, such as rivets, buttons, zippers and interlinings. The OEKO-TEX® quality seal also guarantees that textile components are safe for the skin.
And if there is quality, there is usually also a cost. Personalisation in decoration is often expensive. However, decorating your home to your liking need not be within the reach of a few. That's why we offer you the personalization you're looking for at affordable prices. The covers can also be washed without problems in the washing machine, with the exception of the leatherette ones, so that you have one less headache. And don't think that we will only send you the cover.
We also distinguish ourselves from the rest in the type of customization we offer on our cushions. While other brands leave blank margins around the design, or customize only one side, we cover the entire surface of the cushion, up to the seams, on both sides. Because we know that you are not satisfied with a half customization.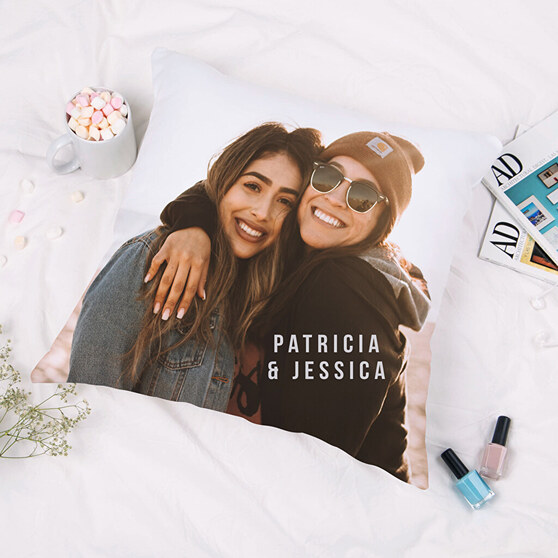 And not only do we distinguish ourselves in the customization, but also in all the possible combinations that you can do with our different cushion models. From choosing the material, shape and size, to the color of the zipper. We want you to decide how you want to personalise your cushion. This is the only way to make personalised cushions with the designs you want.
The personalised cushions are perfect both for your own home and to give away at any time. If you are going to give a gift to someone, our advice to get it right is to think about the taste and personality of the person as well as the space to which it is destined. Is it for the living room or the bedrooms? This can also determine the design, if it is preferable to choose photo cushions, photo cushions with phrases, minimalist cushions. Even if it is on the occasion of a special event, such as Valentine's Day or Mother's Day, these end up located in a specific space, so it is advisable to think about the characteristics and style of the space so that it fits perfectly in the environment.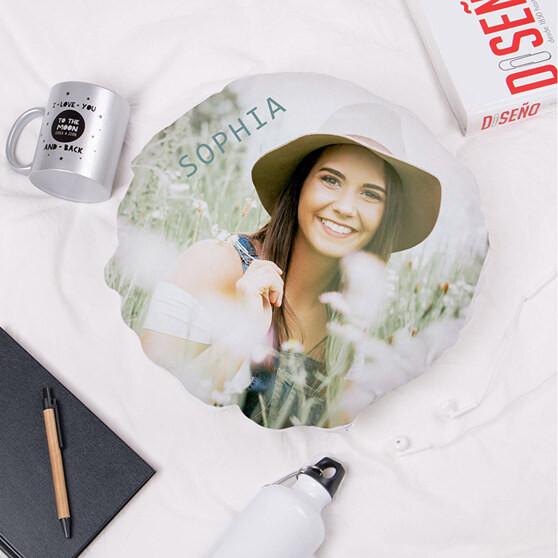 And for the children's room? Child cushions!
So far we have raised different options to customize the different models with designs or photos, but can you imagine designing them with drawings made by your own children? Now it is possible! If you don't know how to make children's cushions, it's very simple. All you have to do is choose the drawing you like the most, scan it and convert it into .JPG. Then you just have to choose the model you want, along with the right material and size, and upload and add the design. Just like that.
Making cushions with children's drawings is ideal as decoration in your room, but also as a gift for dads, moms, grandparents and teachers. They love it, because there is nothing more personal than a design made with so much love.
If they don't like drawing, you can also create fun cushions and geeky with their favorite fictional characters. The personalization being total for both sides, you can make a collage of photos with all your favorite characters from movies, series or books. It will become your favorite, because it will be completely to your liking.
How to place cushions on the bed
The bed is the great protagonist of a room, therefore, it is necessary that you choose a good decoration to create harmony between all the elements. Depending on the size of the bed, you will need more or less cushions. For beds of 1.50 m, the ideal is not to saturate and choose a maximum of four cushions.
When there are doubts is when the bed is bigger, where is the limit? We recommend you not to put more than six cushions, because it is uncomfortable. This is our favorite order to place them:
First line: first place the pillows to serve as support and base for the rest of the decoration that you are going to put next.
Second line: on the pillows, place two large square cushions. Choose 50x50 cm patent leather or 55x55 cm polyester, satin or panama. Regarding customization, choose shades and textures similar to those of the quilt or the colors of the room itself.
Third line : so that they do not stack with each other, it is preferable to change both sizes and shapes. Therefore, we now choose rectangular and somewhat smaller size. You can still use the same colors as in the other model, but this time with lighter shades, for example. See changing the tones of the chromatic scale so that the visual impact is original, but not squeaky.
Four line: according to our distribution, this would be the last line, but you can always add one more. In this case, we give way to the smaller models or those that have a different shape: the round model or the heart model, for example. These last two will be the ones that will stand out the most, so be careful to choose the best customization. Here you can be much more creative and put your initials, for example, or a nice phrase.
This is our proposal, but you can make the combinations you want with our different models. You can also play a lot with customization, so the result will be unique and original. Start creating your own and make your bed speak for itself.