Personalised aprons
{{ dinamic_h1 }}
#{{ product_article_id }}
{{ article_price_promotion | currency }}
{{ article_price | currency }}
{{ article_price | currency }}
Sizes: {{ article_size }}
100% of the surface is personalised.
It has a trim and back rope for tying.
Suitable for washing machine.
Material: Panama fabric (100% Polyester).
Minimum order quantity: {{ product_sales_quantities.min_quantity }} units
Without minimum quantity
Sold in packages of: {{ product_sales_quantities.selling_unit }} units
How to make an easy apron
Do you have to make a gift to a cook or someone who likes cooking a lot? Don't think twice: personalised aprons are the perfect gift. In our online editor you can create them with photo, name or any design. A practical and fun gift that will delight the chef who receives it. In this section, we have compiled our models of aprons for children and adults. Make the kitchen a place to have fun and enjoy with the family, from the elaboration to eating. Start now and create yours.
Original aprons
This gift is also ideal for amateurs, because nowadays elaborate cuisine is very fashionable and many people love to look for recipes and try to replicate them at home. Well, one way to motivate yourself more is to wear totally personalised cooking aprons.
You can put anything: a photograph where this person goes out with family or friends, or you can also choose to make funny aprons. For example: a body of a character, so that wearing it almost looks like a disguise. Some use it in bachelor parties to "disguise" the protagonist.
Any chef will be happy to use theirs and prepare some of their specialties. We have many cheap personalised aprons, but with the highest quality. Now you can choose the model that best fits what you are looking for and make aprons for men, women, geeks aprons... It is ideal on any occasion! This gift is a guarantee of success and the dish that the cook prepares for us is sure that also.
Children's apron
Some children are also interested in cooking, because they love helping their father or mother as kitchen helpers, especially since Masterchef Junior. It is positive that from an early age, they are integrated and participate as one more in the tasks of the home. To make it more fun, you can make a pack of aprons for father and son or a combination of mother and son.
From now on, the little ones will be able to help in the kitchen without the risk of staining their clothes. You can have fun as a family and make incredible dishes together.
Create your own personalised apron, with a photo, a collage, a design, quotes, etc. You can personalise 100% of the apron. The perfect gift for amateur cooks or chefs.
Ideal gift for amateur cooks.
It is made of Oxford fabric, high quality and resistant.
The straps to be tied to the back are approximately 40 cm long. The apron weighs 159 gr.
Personalised apron without minimum order
In our online shop you can buy your apron without minimum order, from 1 unit if you wish. Many merchandising stores require a minimum order: with us, you can buy the quantity you want, with no mandatory minimums.
The apron of the future "Junior Masterchef"
Create your own personalised children's apron, with any photo, photo collage, design, phrases, child's name, etc. You can customize 100% of the apron on the front.
Ideal gift for children who love to be in the kitchen, helping dad, mom or grandparents. Or who want to learn how to prepare their first recipes.
It is made of Oxford fabric, high quality and resistant.
Sizes available for children' aprons
Size S: for children up to 6 years approx.
Size M: for children from 6 to 12 years approx.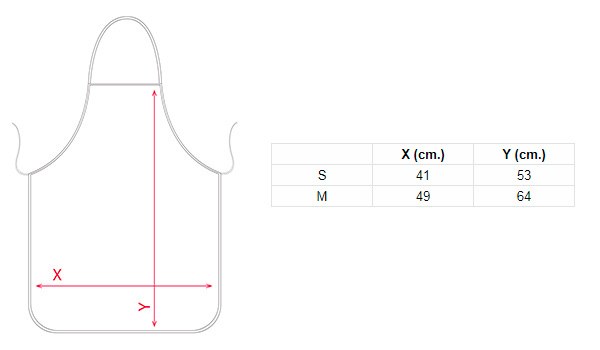 Washing Instructions
Suitable for washing machine.
Maximum washing temperature: 30°.
Do not use bleach.
Iron at low temperature.
Not suitable for dryer. Dry outdoors.
All measurements of these textile products are approximate and may be affected by the process of image transfer and confection.
Guarantee of quality
Textile products labelled with the OEKO-TEX® brand guarantee that all their components meet the required control criteria, including accessories such as rivets, buttons, zippers, interlinings, etc. Textiles with the OEKO-TEX® quality seal have skin-friendly properties.