Size and height recommendations
The size S is recommended for children between approximately 100 and 120 cm. That is to say, the approximate ages would be from 4 to 7 years.
The size M is recommended for children and young people between 120 and 145 cm in height, i.e. from 7 years old up to about 11 years old.
The size L is suitable for people over 145 cm, that is, adults and adolescents from 12 years old on.
| Flexible | X (cm.) | Y (cm.) | Z (cm.) |
| --- | --- | --- | --- |
| S | 10,7 | 15,3 | - |
| M | 11,4 | 17,4 | - |
| | X (cm.) | Y (cm.) | Z (cm.) |
| --- | --- | --- | --- |
| Standard | X (cm.) | Y (cm.) | Z (cm.) |
| --- | --- | --- | --- |
| S | 7,5 | 14 | 10,3 |
| M | 8,3 | 16,5 | 11,3 |
| L | 9 | 19 | 12,3 |
| Premium | X (cm.) | Y (cm.) | Z (cm.) |
| --- | --- | --- | --- |
| S | 7 | 14,3 | 9,6 |
| M | 8 | 16,7 | 11,1 |
| L | 9 | 18,7 | 12,5 |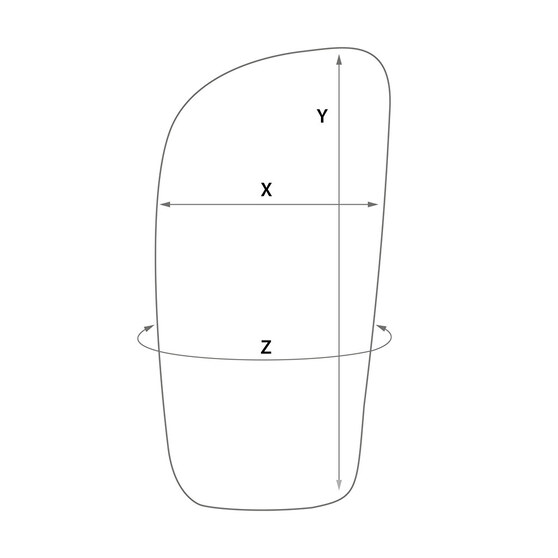 Advantages of Premium shin pads
When buying your personalised pair of shin guards, you will be able to choose between a Standard model and a Premium model. Although both models are ergonomic, comfortable and resistant, we'll explain you what advantages and improvements the Premium shin guards have over the Standard ones:
Hexagonal surface texture. The premium shin pads have a "honeycomb" or "beehive" surface finish, resulting in a much more spectacular visual effect.
Better protection. Both the rigid outer shell and the padding on the inner side are thicker, which gives these premium shin pads better protection against kicks and blows.
More comfort. In the Premium model, the back of the inner padding has an extra layer of fabric, providing a more comfortable feel.
Better breathability. Thanks to the perforated ventilation in the EVA rubber, the Premium shin guards have better breathability in the area of the leg that is covered by the shin pads.
Premium shin guards comply with EN 13061:2009, referring to: Protective clothing. Protective clothing - Shin pads for football players. Requirements and test methods.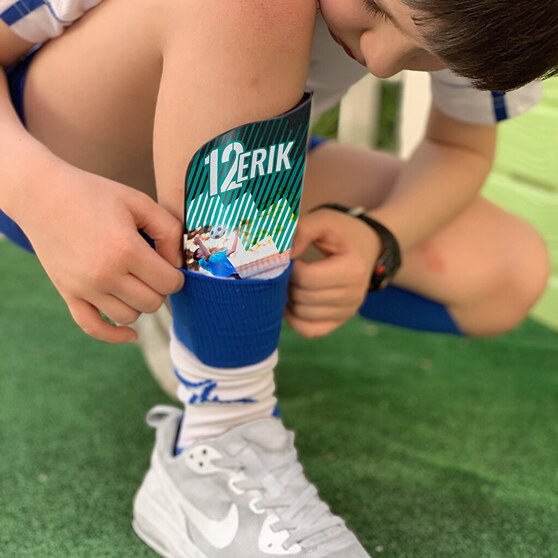 Personalised football shin pads
Shin guards are an essential element in the clothing of professional and amateur soccer players, including children. Now you can have personalised shin guards so that, in addition to protecting their legs, they would have a special meaning for them.
You can choose between different sizes, and thanks to our Editor you can personalise shin guards online with any photo, image, design, etc. You can put a squad number, name, photo of the player, shield of the team ... whatever you want. We will print that design in full color on both shin guards.
Thanks to their ergonomic design, shin guards guarantee total comfort in use, as well as protection and resistance.
The shin guard material is a variety of polypropylene plastic with a special finish for sublimation, a very resistant and comfortable material for the wearer. Its main characteristics are: flexibility, lightness and resistance.
Personalised children Shin guards
The personalised shin guards with photo are a perfect gift for girls and boys who play football or other sports. They love to have their own shin guards with their squad number, their name, or their team's shield. It motivates them, and in addition, they are protected against accidents and fractures, at those ages when their bones are vulnerable.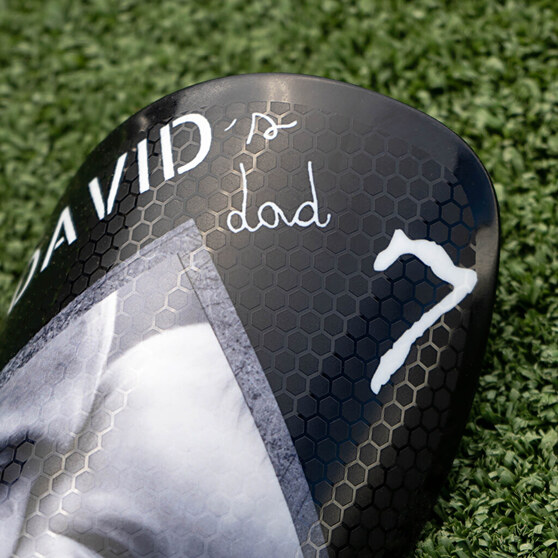 How to personalise shin guards
The shin guard is personalised by sublimation, a method that ensures that the design remains printed throughout the life of the product.
How to put on shin guards
It should be noted that the shin guard must be placed about 15 cm below the kneecap and 10 cm above the ankle, covering at least one-third of the length of the tibia.
The sleeves should be worn first on the legs, in the tibia area. The sleeves have a hole for the leg and another for the shin guard. After inserting the shin guard through its hollow, all that is left is to place everything looking for maximum comfort and protection, put on your socks and shoes, and win!
Shin guards, also known as personalised shin guards, are not only used in football, but also in other sports such as field hockey, ice hockey, roller hockey, soccer, rugby, indoor football, baseball, combat sports. Its purpose is to reduce the risk of fractures in the ankles, tibia and fibula, making the impacts in those areas of the body less aggressive.
This product is delivered with its various parts separately. To be assembled before using for the first time. Assembly is very simple.