Sizes: 1,8ø (width) x 14,3 cm (length)
Without minimum quantity
USB capacity: 16 GB.
Pen material: wood. Housing colour: brown. Ink colour: black.
Personalisation method: engraving.
reviews

Custom USB pens
More and more people are looking to be up to date in everything that has to do with computer gadgets. If you like this kind of products or you need to give someone a practical and original product, you are in the right place. Get ready to succeed with pens with integrated USB. With these pens are all advantages, you can write on paper, sign any document in the blink of an eye with it, but at the same time if you need to save an important file is perfect because when you open it has a usb that you can take with you everywhere and plug it into any computer.
It is a pen with black ink, with a light wood finish, which you can personalise with an engraved text, whether it is a personal or company name or a special word. The USB flash drive has a 16 gigabyte memory, where you can store your most important files, whether they are documents, music, photos or whatever you need, they will accompany you wherever you go!
You will receive it in a nice kraft box so you can give it as a gift or keep it wherever you prefer. You don't need to wrap it if you don't want to, because the box will allow you to give it away and look great with it.
It is ideal for those people who go to work every day with a lot of files, and who need to always have a pen at hand to write down any information and at the same time a usb to carry everything in the same gadget.
And what makes it even more special is that it is personalised with the text you want, the name of your company or the word you tell us. All your documents protected in this personalised USB pen, it couldn't be more original!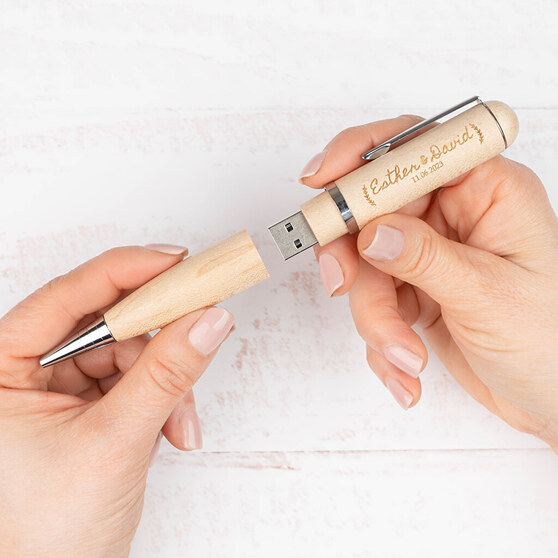 Personalise your USB pen and take it with you wherever you go.
In this section you will find a lot of designs to personalise your new pen and make it a unique product. Choose a simple design with just a name in one of our different fonts or add any of the decorative elements we offer.
You're sure to create an ideal design whether the pen is for yourself, to take with you wherever you go, or to give as a gift. This type of detail always leaves a special impression, as it is not only a beautiful item, but also very practical and useful.
Personalised pens with USB, a super original gift
This is one of the most elegant pens with usb on the market, as the light wood tone gives it a warmth that you won't find in others, plus its personalised engraving gives it a distinctive detail like no other.
It is a classic gift, usually given on special occasions such as Mother's Day or Father's Day, on birthdays, as a retirement gift, at a communion or even for witnesses at a wedding, to sign on that special day. You can put a text or even a date or a special text.
But they are not only useful as a gift on a special day, do you have an event or a conference with your company and you want to have a detail with the attendees? This personalised pen with usb will surprise the attendees and turn into a success. The best thing is that if it's used as marketing material, all your potential customers will remember you, as it's a different pen from all the other ones they receive during such an event.
And the best thing about personalising your pens with us is that you won't have a minimum order, you can order from one unit to as many as you need, with no minimum or limit on your order of custom USB pens.
Now all you have to do is think about what occasion you need it for and how you want to personalise it and we will take care of the rest.