Personalised luminous wooden photo frame
Sizes: 17 cm (width) x 23 cm (length) x 2 cm (thickness)
Without minimum quantity
Includes USB cable. No batteries required.
Frame material: acrylic.
Your photo will be printed in colour on the transparent plate.
White LED light
Frame material: natural wood.
reviews

Personalised photo frame with light
We all love to create a warm atmosphere in our home. When doing this we take many factors into account. From the paint or paper for the walls, furniture, decorative objects and elements that provide warmth such as lamps. For this, our custom 3D lamps with wooden frames are the ideal accessory that you've been looking for.
This beautiful 3D lamp will dress the corner of your home that you want in the most special way. Besides, personalised gifts are always a success, as they are created with the exact taste of the person who is going to receive it in mind.
This is a lamp in which we will print, in full colour, the design you choose or create on the methacrylate plate. It has a frame around the whole plate in a natural wooden colour that gives it an unparalleled warm and Nordic touch. Its white light will illuminate your photo or design in a magical way.
These LED table lamps come with a USB cable, so you can connect them to any USB enabled device, or to any wall socket in your home using a USB to wall socket adapter. It has an approximately 95cm cable with a handy on/off switch. To turn the light off, simply press the button or unplug the cable. No batteries required.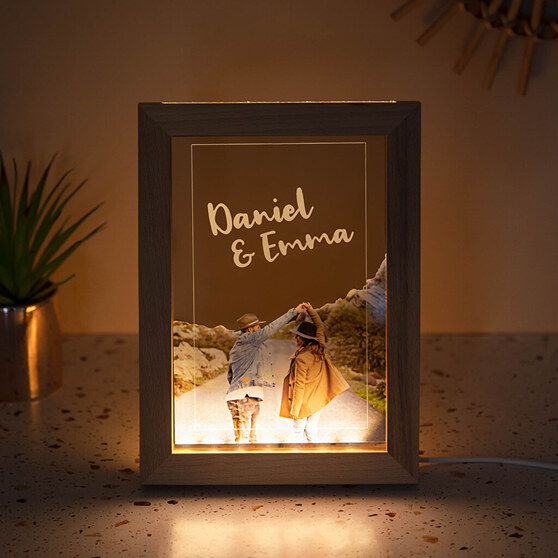 Personalise the perfect 3D lamp for you or to give as a gift.
In this section you will find a lot of pre-designed templates that you can modify to create your lamp with a wooden frame, and make it perfect for any occasion. Add photos, modify texts, add a special date for you and make it a unique detail. An endless number of designs that you can personalise as you like. Any option you can think of will be perfect to personalise on these beautiful personalised 3D lamps.
And if you don't find any design that fits what you had in mind, don't worry, you can also create your 3D lamp with a wooden frame from scratch. The designs you create yourself have an even more special charm and the best thing about it is that no two lamps will be exactly the same - a guaranteed hit!
The best occasions to give a personalised lamp as a gift
Giving a gift always makes us especially excited, because on the one hand it may be because a special date is approaching or on the other hand we want to have a detail with someone without them expecting it. On both occasions what we like most is that the person who is going to receive the gift is delighted with it.
The 3D lamps are an article that in recent years is booming and if they are personalised even more so because there won't be two 3D lamps exactly alike, which make them exclusive and unique. Showing your feelings with the warmth and peace that these products transmit is always a good idea.
The most popular occasions to give a personalised 3D lamp are for example: on Valentine's Day, it is the perfect gift for that person who makes us shine, just choose your favourite photo, put your name, a special date or a phrase that means everything to you and Voilà! Your story will shine with its own light.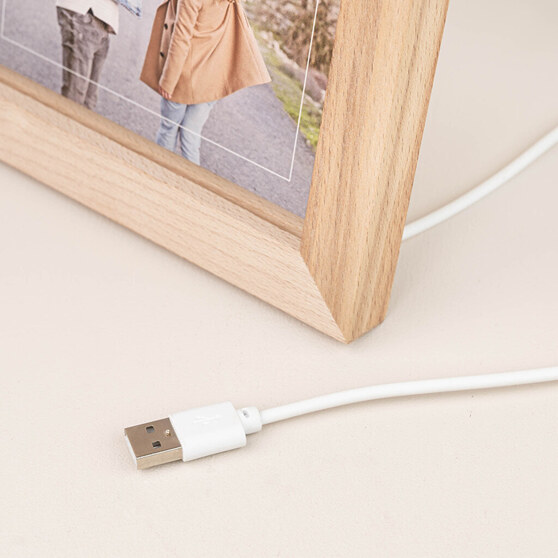 Other occasions when you can give a personalised lamp as a gift are Father's Day, Mother's Day, Grandparents' Day, you can personalise it with a photo of the little ones in the house, it will make dad, mum and the grandparents thrilled about their new photo lamp.
Birthdays are also a great time to give a personalised lamp as a gift. Although we are among those who think that it is not necessary to wait for a special occasion, you are sure to find the perfect moment to give a gift to that person you love so much. It's even ideal as a self gift, because... Who wouldn't want a 3D lamp as beautiful as this one? Create the perfect design for yourself or as a gift on our website and we'll make sure it looks perfect.
Tags of Luminous wooden photo frame