Personalised kids' T-shirts short sleeves
{{ dinamic_h1 }}
{{ article_price_promotion | currency }}
{{ article_price | currency }}
{{ article_price | currency }}
#{{ product_article_id }}
Without minimum quantity
Cotton T-shirt material: 100% cotton plain jersey. Material polyester T-shirts: 50% cotton / 50% polyester.
Printing methods: Cotton: DTG digital printing - Polyester: sublimation.
Cotton T-shirts brand: Fruit of the loom.
We recommend washing before first use. Turn T-shirt inside out before each wash.
view more

Personalised children's T-shirts
You can now personalise your own personalised t-shirts in girls' and boys' sizes, with a multitude of options to choose from. To start with, you have to decide if you want the T-shirt in 100% cotton plain jersey with Premium printing, i.e. DTG digital printing directly onto the T-shirt. This is the best possible quality in the textile printing industry.
You also have the option of polyester T-shirts printed by sublimation, a type of printing with a high quality finish and good colour sharpness, which, like direct printing, retains the design after each wash in the washing machine.
The best thing about T-shirts is that you can design them exactly to your liking on one or both sides. Simply choose one of our designs and add your own personal touch. You also have the option to create it from scratch with your favourite photos, texts or drawings. With Wanapix, it's very easy to create the perfect T-shirt.
These kinds of clothes are a must in every wardrobe, and that's why they are always a good choice as a gift for birthdays or Christmas, among other special occasions. Just look for the most special personalisation to make the model as original and unique as possible.
Cotton T-shirts with direct print
Our cotton T-shirts are made by Fruit of the Loom and the material is 100% cotton jersey. They are available in several colours and sizes. The printing of these T-shirts is done using DTG digital direct printing. This means that the print of your design is perfectly integrated into the T-shirt without any marks. Another advantage is that it withstands washing and continuous use.
Technical characteristics - cotton T-shirts
Fabric: 100% cotton jersey.
Weight: White: 150 g/m² - Rest of the colours: 155 g/m².
Tubular model.
Wrapping from shoulder to shoulder.
Casual Fit.
The dimensions are approximate and may vary slightly after going through the cutting and printing of the product.
Personalised polyester T-shirts with sublimation printing
You can also choose to customise polyester T-shirts, which are cheaper and therefore perfect if you're looking for cheap personalised T-shirts. The material is more elastic than the material of cotton T-shirts. Another difference is that polyester T-shirts are only available in white.
Polyester T-shirts are customised using sublimation technology. This type of printing is the most economical because sublimation prints the design directly onto the T-shirt without wasting ink as in direct DTG printing. This technique is very inexpensive and therefore ideal for orders of many T-shirts to be worn for one day, at events like town fairs, farewell parties, etc. However, they can also be used in normal everyday life.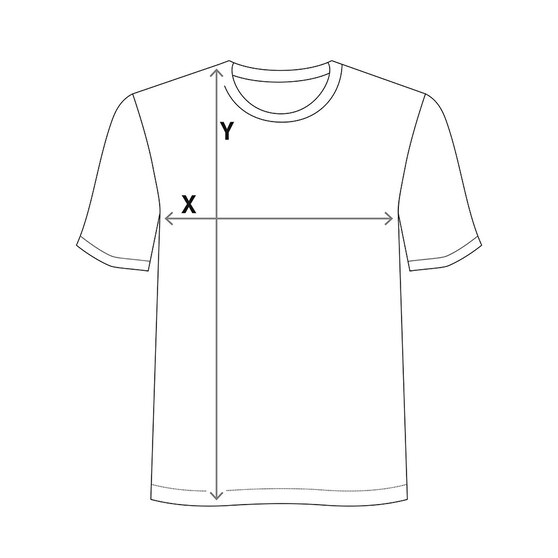 Washing instructions
We recommend turning T-shirts inside out before washing to better preserve the personalised design.
Machine washable. Wash cold.
Do not bleach.
Do not iron.
Do not dryclean
Do not tumble dry.
Quality guarantee
Textile products bearing the OEKO-TEX® label guarantee that all their components meet the required inspection criteria, including accessories such as rivets, buttons, zips, interlinings, etc. Textile products with the OEKO-TEX® quality mark are harmless to the skin.