Personalised wooden poster hanger
Sizes: 30 cm (width) x 45 cm (length)
Without minimum quantity
Includes two wooden strips, at the top and bottom.
The top strip includes a hanging cord.
Fabric: 100% streck polyester.
Personalised wooden poster hanger
The most elegant option for home decorations, or for the setting of an event, are these posters with a wooden frame and hanger.
The poster is made of streck fabric (100% Polyester). You can upload your photos or designs, or create a design on our website, and we will print it in full colour on the surface of the paper or fabric.
This decorative product, also called a poster hanger, will give a nordic decoration feeling to your home.
Ideas for use
This poster with hanger is ideal for home decoration (corridor, living room, bedrooms), as well as for events such as weddings, baptisms, communions, congresses, etc.
In events like a wedding, you can put the name of the bride and groom, their photo, the date, and hang it in different parts of the venue where the event.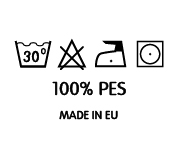 Tags of Wooden poster hanger