Personalised round glass plaque
Sizes: 10 cm (width) x 11 cm (length) x 0,6 cm (thickness)
Without minimum quantity
Material: glass.
Personalised on 1 side.
Storage box included.
Ideal as a prize, trophy, souvenir, award etc.
reviews

Personalised round glass trophies
One of the first items we think of when we want to honour, congratulate or highlight someone's work is a personalised trophy. That trophy is the token for the effort, love and dedication that a person has made at some point in their life, whether it be in sports, during a wedding anniversary or in retirement.
If you are looking for a simple, yet unique gift to remind that person how important they have been or to remember a special moment in their life our round glass plaques are what you need.
The trophy is round in shape and has a square base so that it holds perfectly and shines brightly. The laser engraving on the trophy is of high quality and will make whatever design you choose perfect. It also comes with a black box for the trophy/plaque, making it ideal as a gift for any special occasion.
Customise a round glass for any occasion
Personalised glass trophies are a very touching detail that will create a lifelong memory. In this section you will find a lot of pre-designed templates that you can modify and make them as you like, perfect for the occasion you have in mind.
And if you don't find a design that suits your needs, you can also create a personalised glass trophy from scratch. Just think about the occasion and a little bit about the person or group of people you are going to give it to and adapt the design to their tastes and you are sure to create the perfect gift for that special event.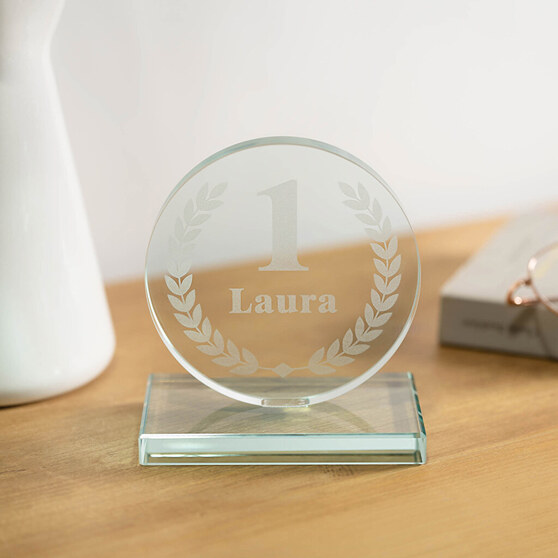 A world of personalisation within anyone's reach to create a unique and lifelong keepsake.
Glass plaques are the perfect gift
Some of the options when thinking of giving a personalised crystal plaque as a gift are:
Gifts on special dates. Personalised trophies are perfect for any occasion, but they are most often used as a gift for Mother's Day, Father's Day, Valentine's Day, etc. Just think about what you want to put in the design and we will make it happen.
Anniversaries. It is a gift that is used a lot on these occasions. For example on a wedding anniversary, silver wedding anniversary, gold wedding anniversary or any special anniversary between couples.
Homages. Glass plaques are also perfect for paying tribute to a person. Whether it be for their dedication or involvement in a project, sport, etc. As they are 100% customisable, any occasion will be perfect to personalise one of them.
Sporting events: in a sporting competition, the personalised glass trophies given to the winning person or team will become a lifelong souvenir. It doesn't matter what sport is associated with the gift, football, padel tennis, handball... The recipient of the glass trophy is going to love it.
As a retirement gift: in retirement celebrations it is a classic to gift a personalised plaque to the person who is retiring, in recognition of their work during all those years in the company.
Just think about the occasion you need it for and how you want to personalise it and we will make sure it looks perfect.
Tags of Round glass plaque