Personalised shot glasses
Sizes: 5ø (width) x 6,3 cm (length)
Without minimum quantity
Material: glass.

Capacity: 60 ml.

Personalisation method: engraving.

Environmentally friendly. Long-lasting.

Dishwasher and fridge friendly.
Select an option: Engraved shot glass
Engraved shot glasses
Shots are drinks, usually alcoholic, although there are also non-alcoholic ones, which are usually taken at all kinds of celebrations. Whether at events such as weddings, anniversaries or birthdays, or even after dinner as a digestif. There are a multitude of different options, sweeter liqueurs such as the famous rice liqueur or creams of this kind or other more citric ones such as the well-known limoncello typical in Italy.
It is just as important that the drink you are going to have is of good quality, as it is to use the perfect glass to drink it from. With these stunning engraved shot glasses you will have the perfect gift to celebrate and toast any occasion that deserves it.
They are made of high quality glass, with a shiny finish that makes them look amazing. They have a capacity of 7cl. We love to take care of the environment, so they are made from environmentally friendly materials and are recyclable. They are fridge and dishwasher safe, but not microwave safe.
What makes them perfect is that they are 100% customisable. Now you can customise all the shot glasses you want quickly and easily, whether they are for yourself or as a gift for someone special.
The personalisation of what, from now on, will be your favourite shot glass, is done by laser engraving, which erodes the glass and leaves the design you have created permanently marked.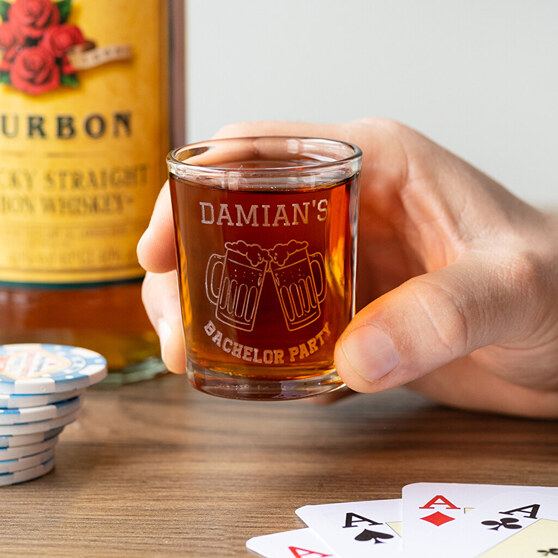 Perfect as a birthday gift, for your friend who has just found a job or even for that friend who has finished her studies with flying colours. There's always a reason to toast and if you do it with our personalised shot glasses, the toast is sure to taste much better.
Design your own shot glass
In this section you will find a lot of pre-designed templates that you can modify to make completely to your taste or to the taste of the person or persons to whom you are going to give as a gift. Designs with phrases, special dates or even with the initials or names of each person. A unique shot glass made to measure for you or to give to whomever you want.
If you don't find any design that fits what you had in mind, don't worry, with our online editor you can create your personalised shot glass from scratch, easily and quickly. In the blink of an eye, the ideal personalisation for your shot glass will be ready.
What's more, at Wanapix, we love to make gifts even more special. We will engrave the text you tell us on this beautiful glass, whether it's a message, a special dedication, names,dates, a logo or something else... All you have to do is let your imagination run wild and we'll take care of the rest. With these shot glasses you will be the queen of the party.
Do you already know how you are going to personalise them? We're sure you have thousands of ideas in mind, see them on our website and surprise your friends and family at the next celebrations.