Minimum order quantity: 20 units
Sold in packages of: 20 units
Approximate size of each sticker: 50x75 mm.
Adhesive paper glossy. 90 gr.
Cut out and ready to use.
How to make personalised photo stickers and labels
Personalised stickers are one of those handy products that you just have to have in your home. They can be used for many different purposes, both in your home and as a decorative gimmick for gifts. The custom stickers are simple to design and are sent in a pack of 20 stickers, already cut out so they are ready to use straight away. They are a super practical item that cannot be missing in any home. Due to the multiple uses they can be put to, they are a very versatile product, you can use them both to organise jars in the pantry by choosing a design on which you can write what each jar contains, and to mark the books you have at home, so that if you ever leave one, they will know who it belongs to. Any item you want to mark will be the perfect item to have a personalised sticker on it.
With our editor you can design them very easily, you can choose from a lot of designs that we offer on our website or if you prefer you can create your own design from scratch, upload the image you want, put text, photos or whatever comes to mind. You only have to select the product and, in our editor, design them as you like. They are sent in packs of 20 pcs and are already cut, so that once you get them home you can use them easily and comfortably. The size of each personalised sticker is 50x75mm.
The most popular use is for marking books, folders and other types of belongings, but, as we have mentioned, they have many other uses such as marking jars of preserves, homemade jams, bottles and other household items. But one of the uses we like the most is as personalised stickers and photo labels for gifts, can you imagine? At Christmas, all the presents under the tree after the arrival of Santa Claus and each package with its personalised sticker with a nice design and the name, no one will have any doubts about who the present was for. Ideal, isn't it?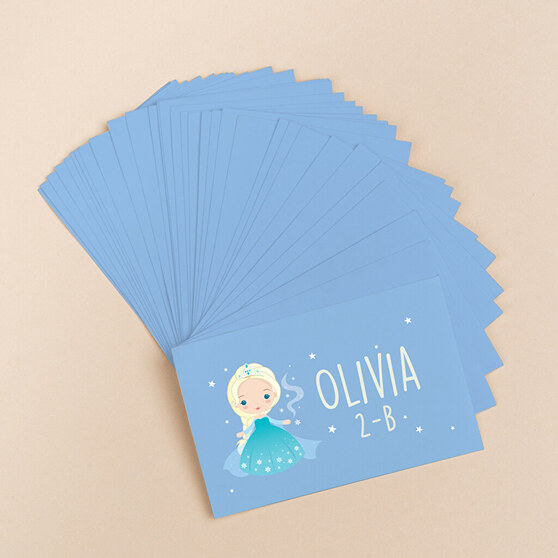 Personalised stickers for school
Stickers and photo stickers are a must-have for the return to school. When binding the books of your children, they should also be clearly marked who the books belong to and where the owner lives, in case it gets lost. For that purpose, these square stickers with names are perfect.
Since you get 20 of the same, with just one pack of stickers you have enough to name all the books you need at a low price. All you have to do is personalise them using one of our free design templates or by creating a design from scratch. In addition to the name, you can insert an icon, photo or drawing of it, and make beautiful photo stickers. If you already know what your child likes, designing them shouldn't be difficult. You can always design our photo stickers together with your kids to get the perfect design.
Now all you have to do is think about what you want to use your personalised stickers for and get ready to personalise them. Do you want to personalise the jars for the different types of pasta to keep your pantry organised? Choose a design with a food motif and leave an empty square or spot to write the type of pasta in the jar and create a label that will keep your pantry tidy and clean. Do you want to personalise a sticker for your little one to mark all the school material? Let your little one participate in the personalisation, they will love knowing that they have created the stickers with which they will mark their material. Choose from our designs the one they like the most or upload an image of their favourite drawings, add their name and surname, the class they belong to and we'll send you your pack of 20 personalised stickers just as you design them.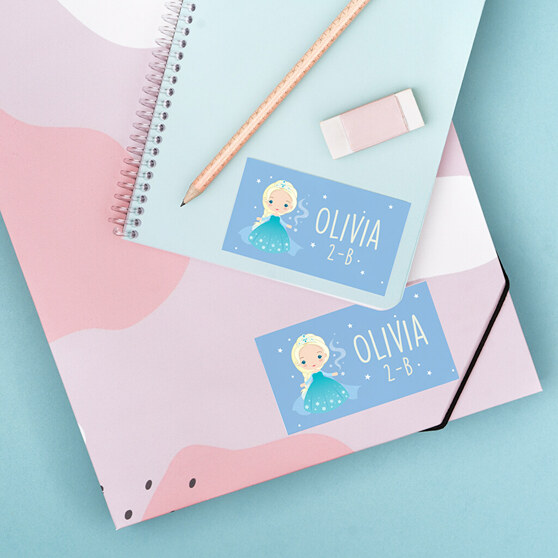 Everything marked and tidy with our personalised stickers!