Personalised transparent acrylic keyrings
Select an option: Heart shaped acrylic keyring
Sizes: 6,5 cm (width) x 6 cm (length) x 0,5 cm (thickness)
Without minimum quantity
Flat keyrings with different shapes.
Material: transparent acrylic material.
They are personalised on one side.
Transparent acrylic keyrings
Our personalised methacrylate keyrings are a detail that never goes unnoticed. If you like to make a difference even when it comes to the details of the smallest gifts, then this is the perfect accessory for you, personalised acrylic keyrings.
The methacrylate of the keyring is transparent which makes the design stand out in an ideal way. On the transparent methacrylate you can print the design you choose from those we offer or create your own design to make a unique piece.
The keyring has a ring to put the keys inside but it also has a small carabiner to hang them anywhere easily to avoid losing them when we go out.
Personalise the perfect keyring for you
In this category you will find a lot of designs that we've designed, in order to make it easier for you, in case you don't have much imagination and you would like us to help you design an original and fun keyring or even a discreet and sophisticated one. You can modify these designs quickly and easily with our online editor. Change names, modify phrases, add text, upload images or photos. Everything you need to do is just a few clicks away.
If you are a bit more demanding and want a design that is unique and unrepeatable, you can also create your own acrylic keyring from scratch. You can upload a design created by you, add photos, the text you want and create a unique keyring in the world. It will surely be your favourite keyring from now on.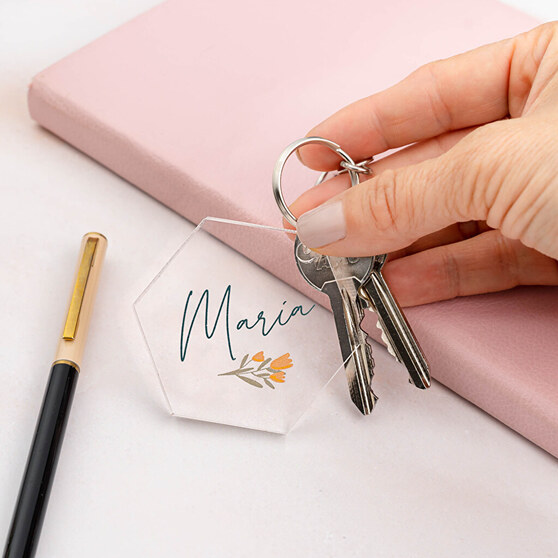 Give a personalised acrylic keyring as a gift for weddings, christenings and communions
Having gifts for guests is a must for us. We want that day to be perfect and we spend hours and hours thinking about the ideal gift to give and thank our guests for attending our special day. Undoubtedly, it is not an easy task, and one option that seems perfect to us are the personalised methacrylate keyrings.
You can personalise one keyring for each guest and hang them on a board so that when they arrive at the event each one can take theirs or put them directly on the plates of each guest so that they know where they're supposed to be seated. We are sure that everyone will love the personalised guest gift.
All you have to do is let your creativity run wild and personalise it to make it the perfect gift for the occasion.
Tags of Transparent acrylic keyrings