Personalised square cushions
{{ dinamic_h1 }}
#{{ product_article_id }}
{{ article_price_promotion | currency }}
{{ article_price | currency }}
{{ article_price | currency }}
Sizes: {{ article_size }}
All the cushions include stuffing.
Total impression on both sides.
Material to choose from: Stretch Polyester, Satin, Panama Polyester.
Removable cover suitable for washing mashine.
Minimum order quantity: {{ product_sales_quantities.min_quantity }} units
Without minimum quantity
Sold in packages of: {{ product_sales_quantities.selling_unit }} units
Square cushions with photos
Original custom square cushions. Choose from various materials (Polyester, Satin, Panama), and different sizes, and personalise your cushion with photo, or with any image, design, logo, text, names, and so on.
All the cushions are personalisable by the two faces, and you can put photos and different designs by both faces, to do that it is a totally personal gift.
Total personalisation
All our cushions are fully personalisable. This means that the cushion cover is completely personalised, 100% of the surface. Other brands leave white borders around your photo, they do not reach the same seam as us.
In addition, they are all personalised on both sides, while other brands only let you personalise one side, and leave the other blank. That's why we insist on the word total: because there won't really be any space left to cover with your design or image.
Washing instructions
Suitable for washing machine.
Maximum washing temperature: 30°.
Do not use bleach.
Iron at low temperature.
Suitable for dryer. Dry at low temperature.
Stretch fabric label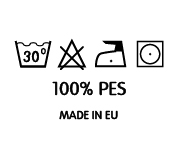 Panama fabric label
Satin fabric label
All measurements of these textile products are approximate and may be affected by the process of image transfer and confection.
Stuffing Material
Information on cushion stuffing material:
Fabric: TNT - non-woven 40 gr./m2 - 100% polyester.
Padding: 100% polyester fibre, hollow, conjugated and siliconized.
Quality guarantee
Textile products labelled with the OEKO-TEX® brand guarantee that all their components meet the required control criteria, including accessories such as rivets, buttons, zippers, interlinings, etc. Textiles with the OEKO-TEX® quality seal have skin-friendly properties.