Sizes: 7,5ø (width) x 9 cm (length)
Without minimum quantity
Capacity: 25 cl. Material: glass. Brand: Luminarc.
Personalisation method: engraving.
Ecological: cadmium and lead free. Extra resistant tempered glass.
Dishwasher, microwave and fridge friendly.
Select an option: Tea cup
Engraved tea cups
Tea is the second most consumed drink in the world after water.There are four types of tea, black, green, red and white, but within these four varieties there are many more depending on the area where we are. Tea time is one of the best known customs in the United Kingdom. It is a time to break the fast between lunch and dinner, an occasion to relax and be calm.
The first thing to bear in mind when drinking tea, is the type of recipient you are going to use. Not every type of cup will serve. With this glass cup you will get that the moment of drinking tea is perfect, since this tea cup will preserve the heat of this drink keeping it at the perfect temperature to drink it.
They are made of extra tough tempered glass, with a glossy finish that will dazzle on its own. The material is 100% hygienic and environmentally friendly as well as recyclable. At Wanapix we try to use environmentally friendly materials in all our products. The extra strong material will ensure that these mugs will be with you for a long time.
They are microwave, fridge and dishwasher friendly, so you can always keep them perfect to enjoy your tea time whenever you need it.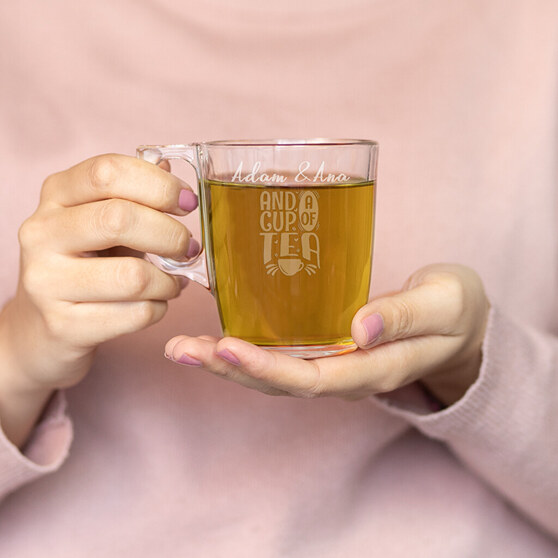 The best thing about these tea cups is that they are personalisable and you can give your personal touch to each one of them, either by making a set of personalised cups with a special design or even personalising them with a name so that you can know who each cup belongs to at all times.
The personalisation of your favourite teacup since now, is done by laser engraving, which erodes the glass and leaves the design you have created permanently marked on it.
Now all you have to do is let your imagination run wild, personalise the cup and sit back to enjoy every sip of tea, either alone or with company.
Create the perfect cup of tea and enjoy that moment of relax
These teacups can be a perfect gift or even a perfect self gift for anyone who appreciates the details of drinking their favourite drink in a special way. You no longer need to leave your home to enjoy a delicious tea..
In this section you will find a lot of pre-designed designs that you can modify to make them completely to your taste or to the taste of the person or persons to whom you are going to give it as a gift. Designs with phrases, special dates or even with the initials or names of each person, a unique mug for you or to give to whomever you want.
If you don't find a design that fits what you had in mind, don't worry, with our editor you can create your personalised teacup from scratch quickly and easily. In the blink of an eye the ideal personalisation for your mug will be ready.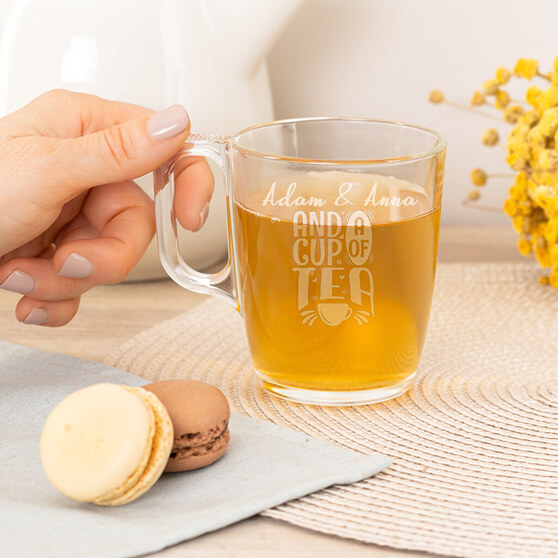 Curiosities you may not have known about tea
In ancient times it was believed to have healing powers. In China, for example, it was believed that it could save you from poisoning. Although dozens of healing powers have been attributed to this plant, science has only shown that it does have antioxidant powers. It is also able to activate the mind and relax the body.
Tea is not the same as an infusion. A tisane, pennyroyal or camomile tea are not teas, they are infusions. Tea comes from the buds, leaves and young stems of a single plant called Cemellia Sinensis, whereas an infusion is obtained from any other herb or plant.
You should not put the tea in boiling water. There is no mathematical formula for making tea, but there are certain degrees for heating the water and a few minutes of steeping time depending on the type of tea. For example, white and green teas should be brewed at approximately 65º - 75º, and should steep for between one and three minutes. The rest of the teas, between 85º - 95º, and with a rest of between three and five minutes. But it is very important to bear in mind that you should never let the water boil.
Now all you can do is create your own personalised tea cups and continue to enjoy special moments drinking tea in what will from now on be your favourite tea cup.