Personalised fleece blankets
Sizes: 70 cm (width) x 105 cm (length)
Without minimum quantity
Personalised with a multitude of photos or any design
Suitable for washing machine and dryer.
Personalised on one side. The other side is white.
Thickness: 290 gr/m2.
reviews

Washing instructions
Maximum wash 40º
Do not centrifuge.
Tumble dryer: use delicate/gentle cycle.
Mild ironing.
Do not use bleach og detergent.
Certificate of non-flammability: ISO 12952. Report 2011an2084.
Other indications
Our personalised polar blankets are 100% polyester and have a thickness of 3 mm. They are manufactured in Spain and the base colour is white. The finish is conventional plush and they are thermoset. With time, for most blankets, small balls or lint are formed, also called peeling, however with ours this does not happen. We put in the maximum quality and care.
The measurements are approximate and, during the process of cutting and printing with heat, can vary up to seven centimeters with respect to the measures indicated.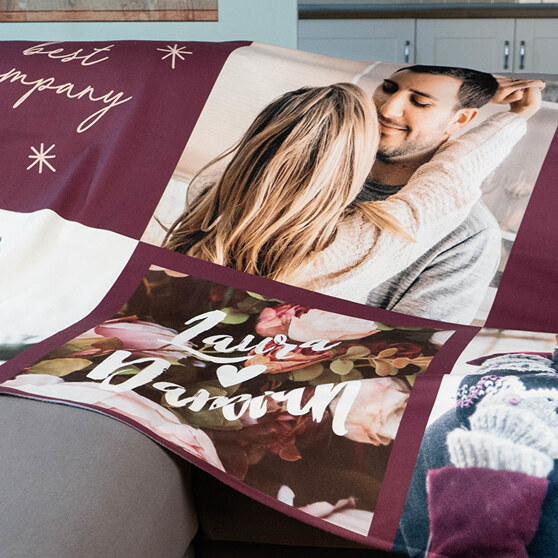 How to make a blanket
Can there be a better plan than sofa, film and blanket at home? We don't think so either. And that's because with our personalised blankets it is enjoyed even more, because they have fleece and they are very warm. What differentiates us from other manufacturers, is that we make your blanket as you want with your favorite photographs and texts to create a unique and special memory.
A priori, you may think it is complex, but let's explain how to make a personalised blanket. Our editor is very simple of use, because you only have to choose the size you want and personalise it with any of our pre-designed templates or, if you prefer, create the design from scratch by adding your favorite photos.
Our polar blanket is a good gift on any occasion, so you don't need to look for excuses, because you don't need them to give this awesome blanket.
How to put a blanket on a sofa
A blanket can also have a decorative function in your living room. Normally, it is placed on the sofa as another element, next to the cushions. The personalisation allows you to take care of the details, so you can make your blanket and cushions match or have similar tones, so they will be together.
What can raise more doubts is how to place the blanket on the sofa. There isn't only one way, but you can innovate as much as you want. The simplest and quickest is to extend it completely and cover the sofa. If the blanket you choose is not so big, you can also play with the placement and instead of putting it straight, you can extend it diagonally and put the cushions on top.
If you don't want to completely cover the sofa, you can fold it and place it from side to side of the sofa in a rectangle shape. However, the best option is to put it on one side of the sofa or to place it crookedly from above and cascading down. These are more "messy" forms, but that's where the special and different touch resides.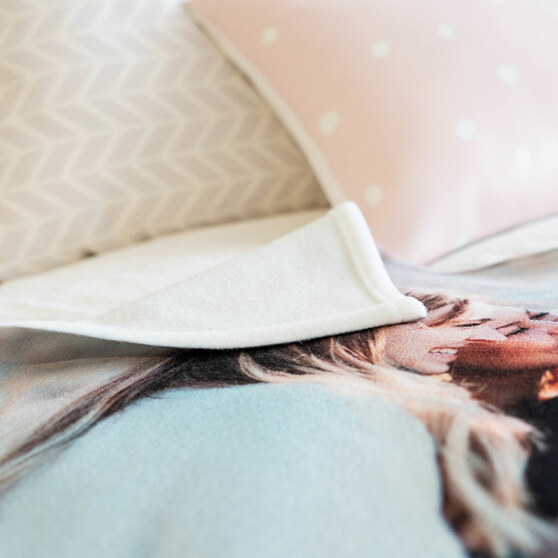 Weight of the blankets per m2: weight/m2: 290 gr/m2 approx. minimum.
70x105 - 343 gr.
80x120 - 412 gr.
105x160 - 650 gr.
120x180 - 717 gr.
150x230 - 1.104 gr.
Quality assurance
The material used to make this product complies with the OEKO-TEX® certificate, which guarantees that the material meets the required control criterias, as well as the accessories such as rivets, buttons, zips, interlinings, etc. Textile materials with the OEKO-TEX® quality seal have skin-friendly properties.