Personalised mini jigsaw puzzle
Sizes: 15,5 cm (width) x 10,5 cm (length)
Without minimum quantity
Number of pieces: 150. Material: cardboard.
Each piece measures 1x1 cm. (approx.).
All the pieces are different.
Delivered disassembled in a glass test tube with the photograph of the puzzle as a model to assemble.
Personalised mini jigsaw puzzles
Customisable puzzles are an original and unique product. Perfect for all kinds of occasions, whether it being anniversaries, birthdays, weddings, christenings, communions, or even specific days such as Mother's Day, Father's Day, Valentine's Day or Christmas. They are gifts that may seem classic, but they will be received well by the person who's going to receive the puzzle gift
On our website you will find the funniest puzzles, but this one has a special added charm and that is that it is a personalised micro puzzle. A puzzle that will become a challenge for the bravest. It is made up of 150 pieces, approximately 1 cm wide x 1 cm high and all the pieces are different. It is made of cardboard. The total size of the puzzle is 10'5x15'5 cm. If you are looking for a different and fun puzzle for you or to give as a gift, this option is what you were looking for.
You can personalise it from scratch, create designs with photos, images or text. You will receive your new micro puzzle in a super original test tube, which will have a sticker with the design you have chosen, to help you assemble it more easily.
With puzzles, we could say that we are giving away emotions. There are many original ways to surprise someone and with personalised products you can make this gift touch their heart, as it is designed especially for the person who is going to receive it.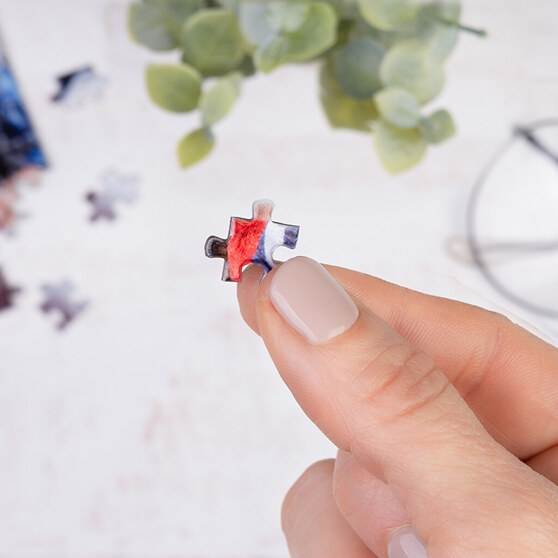 Create your own mini jigsaw puzzle
In this section you will find a lot of designs created by and for you to have it very easy when it comes to personalising the new mini puzzle, whether it is for you or for that special person you want to give it to. With this personalised gift you are sure to surprise the person you have in mind.
You can personalise them with a beautiful and touching phrase, or maybe you prefer a funny one or a special photo or image. A world of personalisation opens up in front of you, with our online editor, so you can customise the perfect miniature puzzle.
If you don't find a design that fits what you had in mind, don't worry, you can also create your design from scratch, the designs you create have a special added value and the best thing about it is that no two cardboard mini puzzles will be exactly the same, which makes it even more ideal.
Your friends and family will feel even more special when they receive this beautiful gift made by you. Personalising a mini puzzle is very easy. In just a few clicks your images will become a unique and exclusive gift. It is no longer just a product with images, it becomes a gift full of emotions and memories. Create your original and unique personalised jigsaw in a quick and easy way to surprise your loved ones.
Give a mini puzzle as a gift
Puzzles are the perfect gift for any occasion, but in case you need a little inspiration, here are some options to help you choose the ones that best suit your needs.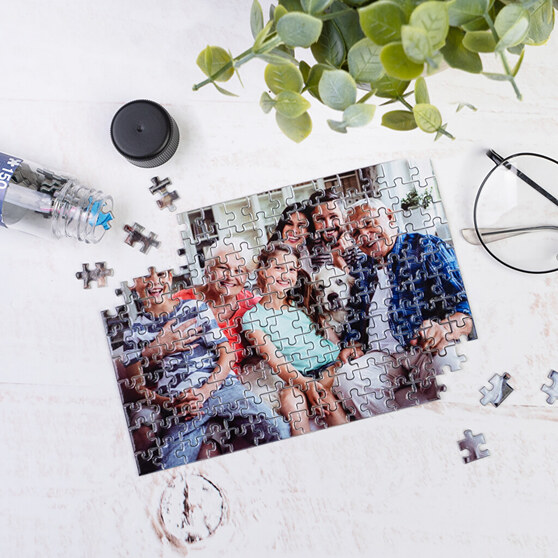 Mini puzzle as a promotional gift for a company. Do you have an event in your company or are you inaugurating it and want to surprise your guests? With this original gift you will make everyone happy, and especially if it's a micro puzzle with your company logo is sure to surprise all those attending the event.
Mini puzzles with messages. Do you want to give someone special news and do it in an original way? Now you can write the phrase you want in your design and those who are going to receive it will have to assemble the puzzle to be able to guess it. Don't you think it's a super fun idea? For example, a phrase like "We're going to be parents! or "Congratulations, you're going to be grandparents! Think of a phrase that you like and put it on your new miniature puzzle.
Mini puzzles with photos. Photos are always a hit and photo gifts even more so. Choose a photo that has a special meaning and upload it to our online editor to create your new mini photo puzzle. An emotional and unique souvenir that will make anyone happy.
Your wedding invitation on a mini puzzle. Do you want to make an original wedding invitation? You can upload the design of your wedding invitation and make it into a personalised mini puzzle. Your guests will remember it forever.
Now all you have to do is think about how you want to personalise it and for what or to whom you want to give it as a gift. Give free rein to your imagination and we will take care of the rest.
Tags of Mini jigsaw puzzle