Sizes: 8ø (width) x 12,5 cm (length)
Without minimum quantity

Rigid plastic base and top. Paper body 250 gr. matt laminated.
Select an option: Pencil holder basic
reviews

Don't lose your pens!
There is nothing more uncomfortable than a desk full of pens and pencils scattered all over the table. You need to organise it and have a section where you can work more comfortably, so you will have a better organised space. Personalised pencil holders are a good way to do this.
You have two models of pencil pots to choose from: A ceramic or a plastic version. Both are customisable so you can put your favourite image or any design you like. A must-have in any office and also on any student's desk.
Personalised pencil holder
In the UK, this cylindrical photo pen pot is known by several different names. It can be called a photo pencil holder a word that can also be used to refer to the traditional graphite pencil. So now you know one more thing: the word "pencils" is used to refer to both wooden pencils and the pots in which the pencils are stored.
Ceramic pencil pots
We love to have everything in its place in our home or office. We are not only talking about decoration, but also about the organisation of each place. In that case, we recommend our personalised ceramic pencil pots, because they are very practical and you will be able to have your desk impeccable.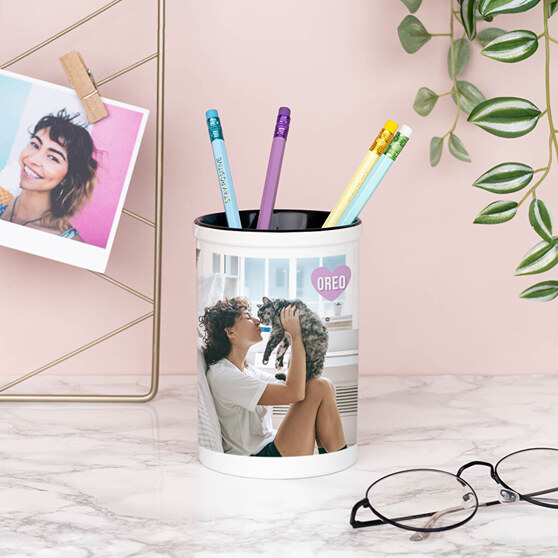 Unlike other shops, with us you can make it as you wish and get your own personalised pencil holder with photo, text or any design. We also provide you with different templates that you can adapt and thus acquire in a few steps your most original model.
They are made of ceramic and have a height of 12,7 cm, so they have a robust and solid appearance. Thanks to its material, the finish is much more vivid and looks great. They are an ideal gift for school pupils and students, but are also very popular as promotional and advertising gifts.
Pencil holder Basic
If you're a neat and tidy person, you can't go without a pencil holder to keep all your pens and pencils neat and tidy on your desk at home or in your office. Our cheap pencil pots are very economical, but of great quality.
The top and bottom are made of rigid plastic, while the rest is made of flexible plastic-coated cardboard. It is a basic product in offices or on student desks to keep everything under control.
What sets us apart is the customisation you can do on the pencil holder. You can choose any of our pre-designed templates or, if you prefer, you can create your own design with your favourite photos and texts. You won't find another one like it in shops because it will be a new and exclusive model designed by you.