Sizes: 9ø (width) x 10 cm (length)
Without minimum quantity
Material: ceramic.
Base diameter: 6.5 cm.
Diameter top: 9.4 cm.
Colour: white.
reviews

Personalised plant pots
Gifting plants is a classic that will never go out of fashion. Plants bring peace and calmness into any home, and what's a home without a plant in it? Well, another day we will talk about what it takes to keep plants alive, if you are one of those who isn't able to take care of an artificial plant.
Gifting a plant has a special symbolism. Something that you take care of with love and that you see grow with just a little bit of water and a bit of your love. A life that grows thanks to your dedication and your time.
What if we make the gift even better? We have the perfect product to make this gift even more special. The gift is a: Photo plant pot, made of ceramic, which you can personalise with any design or photo that comes to mind. Give a different touch to your home with our personalised pots.
It is white, but you can personalise it with any design, photo or text you want. Think that the more original it is, the better it will look as a decoration, make it colourful and it will look much more cheerful and will make any room more welcoming.
Made of ceramic, in a small size so you can put it as a decoration on your balcony, terrace, garden or with a small artificial plant on a piece of furniture. It has a hole at the base to filter the water left over after watering the plants or flowers. Its diameter is 6.5 cm at the base and 9.4 cm at the top, which is the ideal size so that you can put several of them together to form a perfect floral arrangement.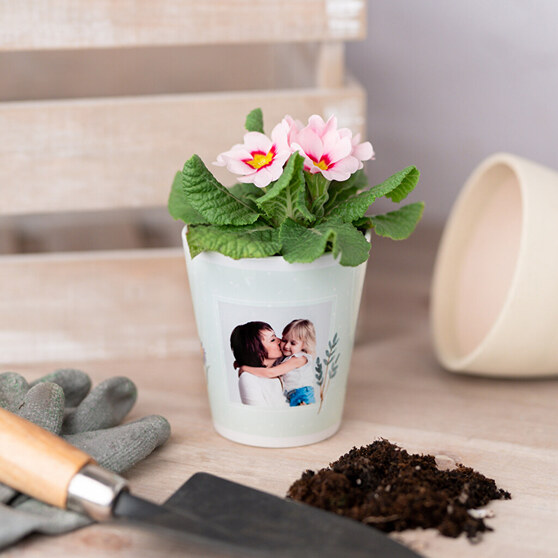 How to personalise your flower pot
On our website you will find plenty of designs to personalise your ideal planter and if there isn't one you like you can personalise it from scratch with our editor.
Choose your favourite photo, a coloured background and a phrase, or whatever you can think of we can create your perfect flower pot. Is your mum's birthday coming up and you want to surprise her? Choose a photo of your kids, upload it in our editor, add a special phrase like "Happy Birthday Grandma We love you", Lucas and Maria, add her favourite plant inside and you have the perfect gift for her, she will love it and will take care of it with love!
Thousands of personalisation options for your flower pots await you on our website.
When to give a personalised flower pot as a gift?
The personalised flower pots are a gift option for many events, such as communions, weddings, confirmations, baptisms and other events. It's the perfect small, useful and pretty gift that you can personalise to your liking to give it as a present at any celebration.
Are you organising your little one's communion and don't know what to give? Choose a photo of them, upload it in our editor, add their name and the date of the communion and you have the perfect gift for the guests on their special day. It is also perfect when you have just opened your company and you want to give a gift to the attendees at the inauguration, put your company logo, add an aromatic plant and voilà, your guests will be surprised that you have had such an original detail with them.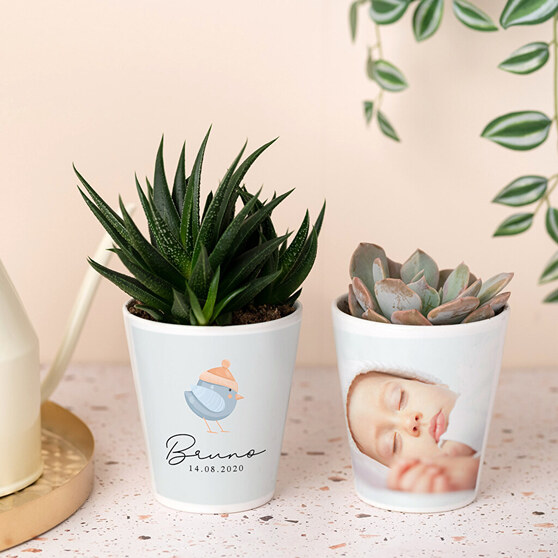 Plants are always a good gift and if they go with a personalised pot even more so. From now on, you will be able to turn everyday into spring with our personalised plant pots.
Tags of Ceramic plant pot