Sizes: 141 cm (width) x 10 cm (length)
Without minimum quantity
Machine washable.
Material: polyester.
High quality print and sharp colours.
Personalised ties with photos or patterns
A tie is an accessory that we usually wear for fancy events. Those in which we want to be elegant and to be able to impress the other attendees. Depending on the event we attend, we will need one look or another to match the occasion. And what better way to do it than with our personalised ties? You will be able to adapt it completely to your taste and get a unique and exclusive model that will leave everyone speechless.
They are made of polyester, so they are not as delicate as silk ties. However, They are printed in high quality and in full colour. There will be no other tie like like the one you design, neither in terms of design nor quality.
It is machine washable, but not dryer safe. We recommend that you dry it by air-drying, thus extending the useful life of the product. The measurements of our ties with photos are 141x10 cm, like most of the models that you see in other shops, but the difference is that you are able to create one that makes you stand out from the masses.
Create your personalised tie
On our website we have a lot of designs available, from designs where you can add a photo, designs with different emojis spread all over the tie, others with a special phrase dedicated for example to Father's Day, even geek ties with Harry Potter fan-art designs.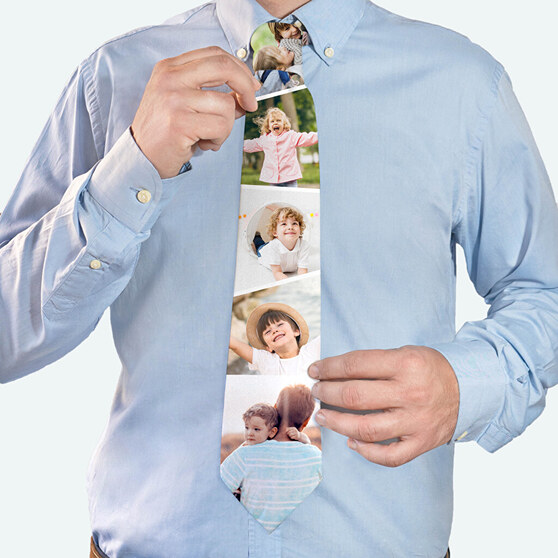 If you don't like any of our designs or you want to give it your personal touch with our editor, it shouldn't be a problem. Our editor is super intuitive and you can personalise your tie from scratch, choose your favourite background colour, with stripes, with dots, with a nice photo, an image or a text that you want to wear, even a tie with the logo of your company for the inauguration of the same.
There are so many options to choose from that we are sure you will make a design that is unique in the world. You'll get to wear the most original tie for the wedding, communion or any other event you're attending.
Give a tie as a gift at your wedding
It is becoming more and more fashionable for the bride and groom to give gifts to their closest friends and this is where our personalised ties come into play. How would you like to give a personalised tie to each friend so that they can wear it on your wedding day? We think it's a super original and fun idea. If you are more discreet, you can choose a background colour that matches the wedding decoration and put a special phrase or their name somewhere on it. Or we could also make them more fun, if you like Marvel for example, we can make each tie with the logo of a different superhero. We are already imagining the photo! It would look great, right?
Father's Day is also one of the days of the year when most ties are given as gifts. Daddy has to go to work and needs his tie, so his little one has personalised one so that he looks handsome while remembering him every time he sees it. And it's not only for dads on this day, but also for grandparents, give a personalised tie to your father with a photo of his grandson and we are sure that he will be so excited that he won't want to take it off even when going to sleep.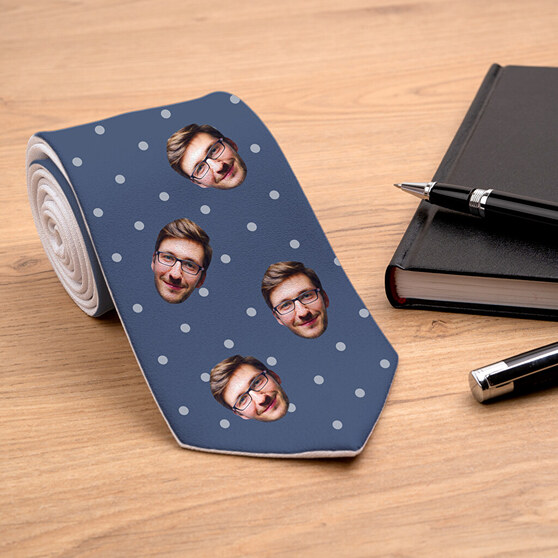 Now all you have to do is let your imagination run wild, think about what event you are going to be wearing it at or what event you want to give it as a gift and we will make your ideas come true.
We are more than certain that this is going to be your new favourite tie!