Sizes: 8ø (width) x 8,3 cm (length)
Without minimum quantity
Capacity: 31 cl. Material: glass.
Personalisation method: engraving.
Environmentally friendly. Extra resistant.
Dishwasher friendly.
Select an option: Water glass
Engraved water glasses
Why do we have the habit of drinking water every day from an ordinary glass? Give yourself a little bit of love and drink water in a personalised water glass. We're sure that it will make you drink more delicious water.
They are made of high quality glass, with a shiny finish. They have a perfect sound and are transparent, which makes them look stunning. They have a capacity of 31cl and a thin rim to make them comfortable to drink from. At Wanapix we love to take care of the environment, so they are made from environmentally friendly materials and are recyclable.
They are dishwasher safe, but not microwave safe. What makes them perfect is that they are 100% customisable. Now you can customise the water glasses you want quickly and easily, whether they are for yourself or as a gift for someone special.
The personalisation of what, from now on, will be your favourite water glass, is done by laser engraving, which erodes the glass and leaves the design you have created permanently marked.
The details when it comes to decorating the table, especially if you consider that you have a creative soul, are just a few clicks away. Don't just decorate the table when you have guests, every day is special and your family meals, with your new personalised water glasses, will become a unique moment. Brighten up your table every day and enjoy every sip of water with your loved ones.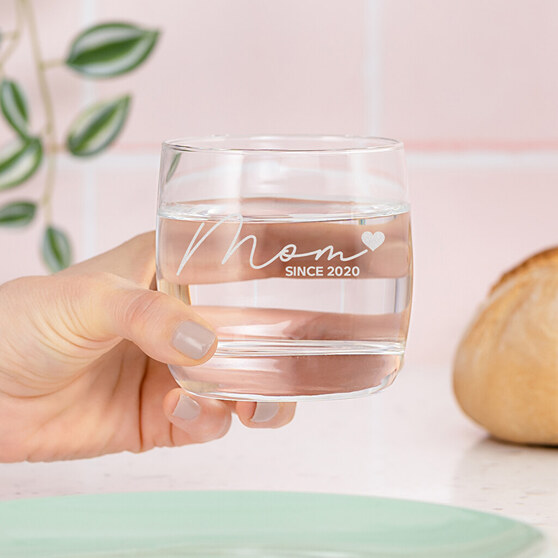 Design your own water glasses
In this section you will find a lot of pre-designed templates that you can modify to make them completely to your liking or to the taste of the person or persons to whom you are going to give them as a gift. Designs with phrases, quotes, special dates or even with the initials or names of each person. A unique and custom water glass for you or to give to whomever you want.
If you don't find any design that fits what you had in mind, don't worry, with our online editor you can create your own water glasses, easily and quickly. In the blink of an eye the ideal personalisation for your glass will be ready. There are thousands of ideas, as many as you can think of.
A glass of water always tastes much better if you drink it in a personalised water glass. Now all you have to do is let your imagination run wild and enjoy every sip from your new personalised glass, either alone or with company.
It's perfect as a gift for grandparents, they're sure to be thrilled to have a glass with their names and also the names of each of their grandchildren. Choose a design you like, personalise it to your taste and we'll make sure it looks perfect.