Personalised Whisky glass
Sizes: 9,8ø (width) x 9 cm (length)
Without minimum quantity
Capacity: 38 cl. Material: glass.
Personalisation method: engraving.
Ecological: 100% healthy material. Long-lasting.
Dishwasher and fridge friendly.
Select an option: Whisky glass
Engraved whisky glasses
Whisky is often thought of as a drink that only older people drink, but the truth is that it is reaching more and more people every day. It is estimated that today, approximately 40% of people who drink whisky are under 35.
It is just as important that the drink you are going to have is of good quality, as it is to use the perfect recipient to drink it in. With these beautifully engraved whisky glasses you have the perfect gift for lovers of good whisky. Great for people who like to enjoy its taste and character.
They are made of high quality glass with a shiny and transparent finish that makes them dazzling. Their capacity is 38cl. At Wanapix we love to take care of the environment so they are made with environmentally friendly materials that care for it and are also recyclable.
They are dishwasher and fridge friendly but not microwave. What makes them perfect is that they are 100% personalisable, now you can customise all the whisky glasses you want, quickly and easily, whether they are for yourself or as a gift for someone special.
The personalisation of your favourite whisky glass since now, is done by laser engraving, which erodes the glass and leaves the design you have created permanently marked on it.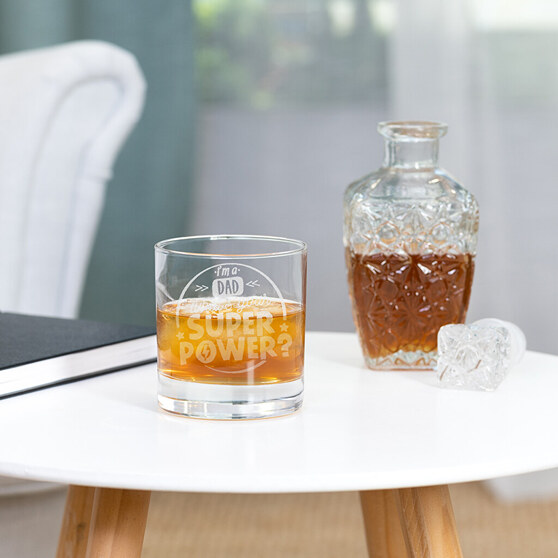 Now all you have to do is let your imagination run wild and enjoy every sip of this popular drink in your new personalised glass, either alone or with company.
They are ideal as a Father's Day gift for a birthday, anniversary or other special occasion. With his name or a text engraved on the glass you will give a unique personal touch to these whisky glasses.
Create the perfect glass of whisky to toast the finest occasions
In this section you will find a lot of pre-designed designs that you can modify to make them completely to your taste or to the taste of the person or persons to whom you are going to give them as a gift. Designs with phrases, special dates or even with the initials or names of each person. A unique whisky glass made to measure for you or to give as a gift to whomever you want.
If you don't find a design that fits what you had in mind, don't worry, with our editor you can create your personalised whisky glass from scratch, quickly and easily. In the blink of an eye the ideal personalisation for your glass will be ready.
What's more, at Wanapix, to make the gift even more special, we will engrave the text you tell us on this beautiful glass, whether it's a message, a special dedication, names, dates, a logo... You just have to let your imagination run wild and we'll take care of the rest. All you have to do is personalise it and sit back and enjoy evenings of good conversations with friends with a good whisky in your hand.
It is such a unique and special gift that whenever they sit down for a glass of whisky, they will remember you. It's sure to make the person you're giving it to look forward to it.