Personalised wooden stamps
Sizes: 3ø cm (width)
Without minimum quantity
Wooden rubber stamp with frame made of beech wood, harvested from sustainable plantations.
Choose shape: round, square or rectangular. Various sizes.
Includes stamp pad with ink. Various ink colours to choose from.
The handle has a recess to place the finger with the correct orientation of the stamp.
reviews

Personalised handmade wooden stamps
If you are someone who likes to leave a mark wherever you go, you are in the perfect place. Discover our personalised wooden stamps and give a special touch to that DIYcraft, invitation, card, or whatever you have in mind. Stamps are a product that has been used for many years and it seems that they are only intended for use in offices and companies to sign or mark documents, but they are not. Now stamps are also used for much more special occasions.
The ones that, from now on, will be your favourite wooden stamps, are made of beech wood, from trees from sustainable plantations. We always try to take care of the environment as much as we can. This wood is varnished and polished for a more pleasant feel and grip. The handle has a recess so that you can place your finger when you are going to use it and it also helps you to know which is the correct orientation of the stamp, to put the stamping in the right direction.
The personalisation of the wooden stamps is engraved on a 3 mm. sponge made of rubber, which is adhered to the wood to improve the stamp's printing quality. With your stamp order you will receive a metal box, which contains a sponge impregnated with ink in the colour of your choice. You will have several colours and shapes available, some more striking and others more discreet, choose the one that best suits your taste and give it your personal touch.
Are you getting married and want to surprise your guests with a special invitation? You can personalise a stamp with your wedding logo, or with your initials and the date and stamp it on the envelope of the invitation.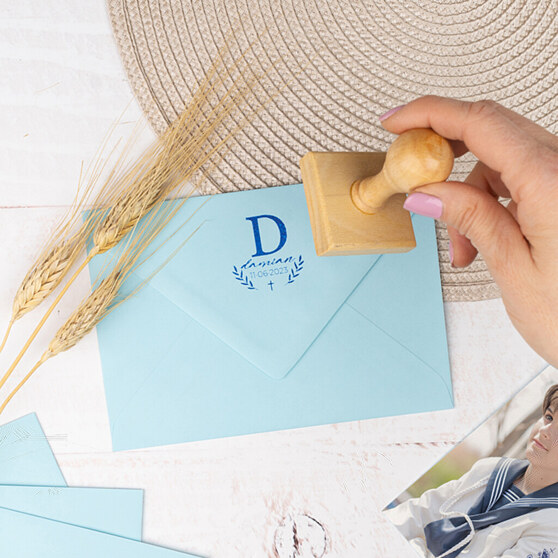 It is a way to personalise that event that you have been organising for so long and to which you have put so much love. It could be your wedding, your little one's christening or your nephew's birthday. You are sure to find the perfect occasion to leave a mark that reflects how important that day is for you.
If you are a handyman, if you like handicrafts and you are one of those who take care of the smallest detail in your creations, you can also personalise a stamp with your name, your logo or a symbol that identifies you. You will be able to sign all your works in an original way. There will be no doubt that this is one of your creations. Let it be noticed that everything you do is done with all the love in the world.
Make your own wooden stamp
In this section you will find a lot of pre-designed templates that you can modify to your liking to make them your own. If you are one of those who want a personalised rubber stamp, but have little imagination to make your own design, don't worry, here you will surely find an option that will fit perfectly with your needs.
And if you are more creative and you have in mind how you want your personalised wooden stamp to be, you will also have it very easy, because, with our online editor, you will be able to create your personalised stamp from scratch.
You can personalise it with text, with your company logo, with a special pattern you have in mind for a special event, be it a wedding, communion, christening or the inauguration of a business. You have endless possibilities to create in just a few clicks.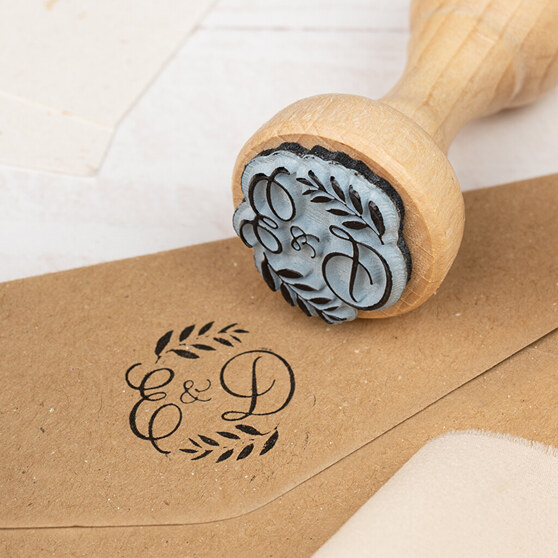 How to use your personalised stamp
It's very simple. You just have to press the rubber part of the stamp itself on the included ink pad (in the colour you have chosen). And then all you have to do is stamp directly on any porous surface (paper, cardboard, photographs...), vertically, pressing firmly so that the design is marked.
Other uses for personalised rubber stamps
Personalised stamps, apart from being used as in the past to sign documents in companies and so on, are increasingly used for other purposes. They are increasingly being used for other purposes, whether to stamp a design on an invitation for a birthday, wedding, christening or other celebration.
It can also be a perfect item for the little ones at home. They will be thrilled to have a stamp with their name on it, so that they can stamp it on all their drawings, homework, school work, etc. It is also the perfect bookmark for books, notebooks, diaries... perfect for the little ones. This way, children can stamp their name, together with the name of the school or any design they want, on their school material.
Now all you have to do is think about how you want to personalise it and on what occasion you want to use it or give it as a gift. We will make sure it looks perfect for the occasion. We are sure you won't leave anyone indifferent with our personalised rubber stamps.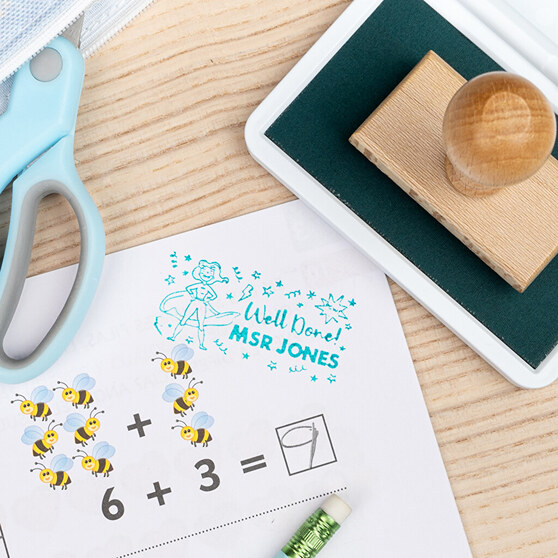 Different ways of naming personalised stamps
The world of stamps is huge and, although one of the most popular ways of naming them is stamp or seal, there are countless ways of talking about them. We would like to show you some of them that we find really curious:
Rubber stamps.
Hand stamps.
Stamps.
Wooden stamps.
Photostamps.
As you can see there are a lot of different ways of naming stamps. Do you know of a way to name them?